Hey y'all, sorry it's been a while. First I was in the US shopping for a few days, and then we had company, and now I'm battling a wicked case of bronchitis. So, not a lot of crafty time, but I've made it into the cave a bit.
ANYWAY. Like the title says, I had a bunch of 'firsts' in the cave this weekend. My first first is that I actually used
Beate's Weekend Sketch
to do up a sympathy card for my BIL (his little cousin passed away late last week), and I'm going to enter it in the draw. Wheeee! The sketc
h posted is on the left, CC is modeling my attempt on the right. I feel like it needs some kind of embellishment (I mean, there's no ribbon or ANYTHING), but then again, it's a sympathy card, y'know? Any suggestions?
The other 'first' of the weekend is that I stamped my first card using one of the acrylic stamps I've picked up recently (Imaginisce's Chick. tee hee. CC was jealous :P). On top of that, I actually masked a spot, which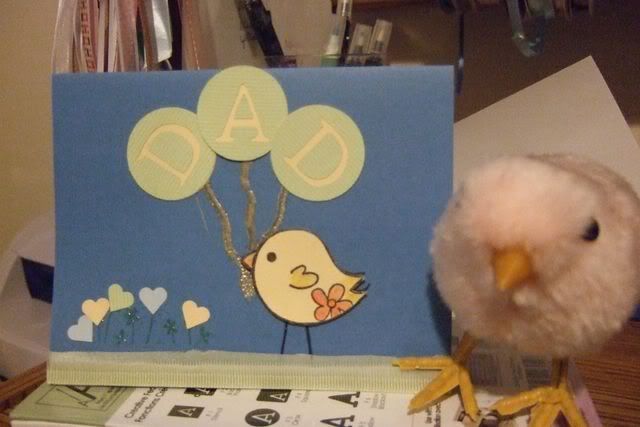 I had never actually done before. It turned out I didn't need to, but still, I did, right? And then, I needed a bit of grass cover at the bottom of the card, so I used a technique shown on
Heather's blog
Friday and took some greenish ribbon and frayed it. This is the end result.. (ya, CC got into this shot too). I love that Chick stamp - I can see me getting a lot of use out of that. LOVE. IT. I also used a technique that
Michelle Zindorf
uses a lot, and set much of my stamping with clear embossing powder. Didn't work out so well with the flowers on the left, but eh. Can't win 'em all.
One last picture before I go - a quick shot of the crafty goodness I picked up when I was in the US at the end of last month. I got a ton of stuff at AC Moore on clearance (mostly $2-$2.50) that here in Canada is $7. Just a tad bit of a ripoff, eh?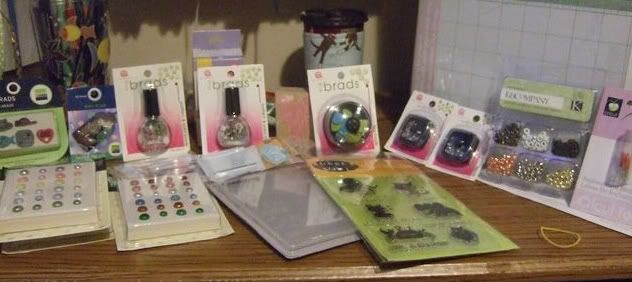 The cricut mats weren't on sale, nor was the Cuttlebug folder, but still - they were $9.99 & $4.99 - almost 50% of 'regular price' up here. The rest are mostly brads, eyelets and other pretties. I got a couple of small clear blocks for acrylic stamps for $1 each (score!) and a cute sheet of acrylic stamps for $7.99 (half price). I didn't even let myself look at ribbon or paper - god knows I have enough of all that!
So that's where things are. I need to make a birthday card for a good friend, so I might have another post soon. Later!!